You don't become the 47th U.S. vice president and not have a story of your own, right? Meet, Joseph Robinette Biden Jr., or more popularly known as Joe Biden, who is one of the leading political figures of the United States of America. There are indeed many facets to this man and has time and again proven his mettle as a deserving presidential candidate for the Democratic Party. Having faced much criticism and collecting accolades alike, along the way, Joe Biden has indeed carved an inedible name for himself in the political history of modern-day USA.
So, here are some bits and pieces from Biden's life, which will help us in understanding him better!
Birth and Education
Biden was born to Catholic parents, on the 20th November 1942, in the state of Pennsylvania. He is the oldest of four siblings. Biden hails from a mixed heritage of Irish and English descent. Joe Biden Sr., his father, was not unknown to riches, but the family had fallen into hard financial times when Biden was born. So, he grew up struggling through financial difficulties, and eventually, after years of struggle, his father did manage to find a sustainable job, and they could afford to maintain a middle-class lifestyle for themselves.
Archmere Academy in Claymont was where Biden received his education. He was never academically a star student, but rather a sportsman of quite good repute. In fact, he did win many matches for his school, and his natural leadership qualities always found him being elected in the leadership roles.
He did a double major in the subjects – political science and history from the University of Delaware, where again he found himself indulging and excelling more in sports than in studies. Biden's aim by then was clear. He was focused, and he wanted to achieve the post of a senator by the time he would turn 30, his ultimate aim being, becoming the president of the USA.
His next step was to attend the Syracuse University College of Law, which again was not something which suited Biden much, as so he claimed later. He got embroiled in plagiarism issues too which forced him to retake a course, but he finally did graduate in 1968.
Motivational fact: It is a well-known fact that politicians have to be good orators. They need to pull in the public vote and favor for them, which makes it almost a prerequisite that one is a good speaker. However, what many people do not know is that Biden has always had a problem with stuttering! In order to overcome this problem, Biden used to spend many hours in front of the mirror reciting poetry! He still has the problem, but that has never pulled him back.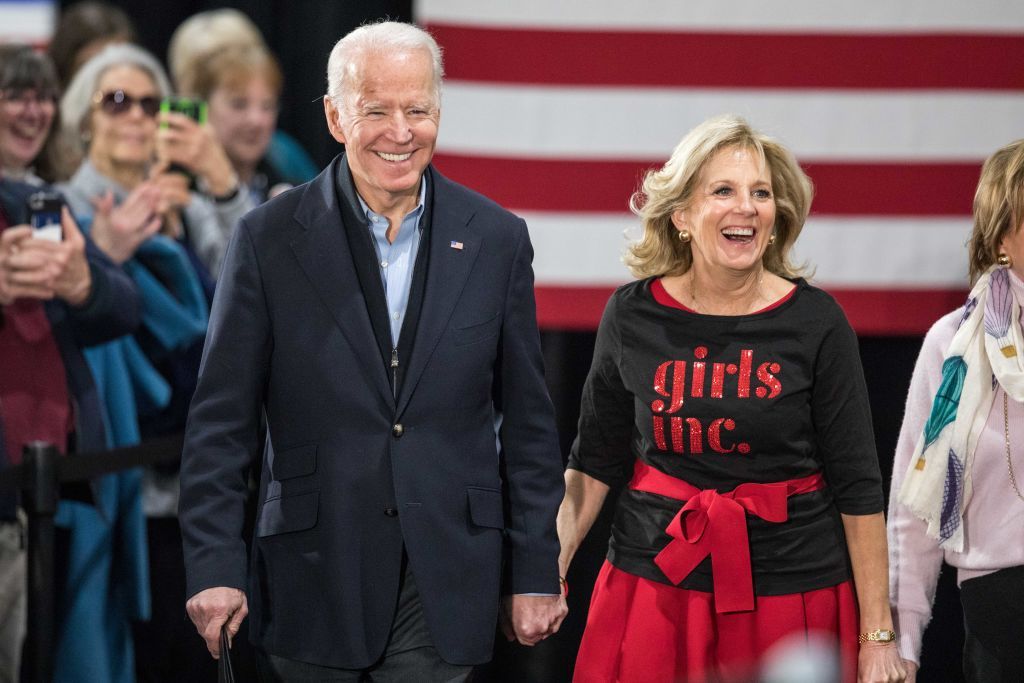 The Beginning of His Political Career and a Tragic Loss
The most significant step in Biden's career was when he became the U.S. senator and that too before he turned 30 – just like he had made it clear to his girlfriend, Neilia Hunter, and then-wife, whom he had married in 1966. He became stood for the elections for the U.S. Senate in 1972 from Delaware. It was not exactly an easy-breezy win for Biden, but it did take him much effort and campaigning to win the elections. In fact, he was trailing by more than 30 points from his opponent. However, it was his image of a family man and his middle-class sensitivity which reached out to everyone, and he finally won the elections by a margin of 3162 votes on 7th November.
But all was not well for Biden since he was hit by a personal tragedy. Neilia and his two sons Beau and Hunter and daughter Naomi, were out for Christmas shopping on a wintery morning on 18th December, the very same year, just after the election results had been announced and Biden was yet to be sworn into office. At an intersection, his family was hit by a truck. Hunter and Beau were rushed to a hospital to treat the injuries they had sustained from which the doctors expected them to recover. However, his wife and daughter sustained fatal wounds and could not be revived. Biden was on the verge of resigning post this but was convinced not to do so and take his political career forward. It was a personal and tragic loss, but Biden fought with all this strength and finally sworn into office on 5th January 1973. The event was attended by his sons and other family members.
With a strategic political win and a tragic personal loss, so began Biden's political career.
The Rising Curve of His Political Career
When he became the senator at the age of 30, he became the 6th person in the history of the USA to do so. But things for difficult for Biden as he struggled to cope with the accident and his tragic loss. It was finally in 1975 that Biden was introduced to Jill Tracy Jacobs, whom he tied the knot with, 2 years later. It was after this that Biden again concentrated on his career and kick-started everything with a renewed interest in life. An out and out family man, Biden gradually and steadily started working his way up to the top.
It was in 2008 that the most significant of his political achievements so far happened. He was elected as the vice president of the USA. Biden had withdrawn his name from the presidential candidacy but had been insisted upon by Barack Obama himself run as his running mate for the post of vice president. Though Biden was not sure, and he initially had declined the proposition, he later reconsidered and successfully conducted his campaign, keeping it low and dignified, which earned him the position. He remained in office from 2009 to 2017.
The Run for President
Joe Biden is one of the forerunners of the presidential candidate from the Democratic Party for 2020. However, this is not his first time running for the president's post. He had first tried for this position back in 1988 and then again later in 2008 but had been unsuccessful in both the cases. According to various polls, there is a very high chance that Biden might actually defeat the current U.S. President, Donald Trump, in the upcoming elections.
Middle-class Joe's Net Worth
Fondly referred to as Middle-class Joe, Biden's actually worth way more in figures. It is his humility and family image that has helped him to sustain this nickname. According to an estimate conducted by Forbes in 2019, both Biden and his wife stand for a worth of $9 million. So, what makes the couple's net worth such a fancy one? Well, the money comes mainly from the royalty of books and engagements of speeches in various public events. A large portion of the money is also accounted for by the salary that he received as a senate and also his wife's salary of a teacher.
When he became the vice president, his estimated salary was around $225,000 per year, and while as a senate, he was earning $169,000. It was after his retirement from the office that he mainly started building his fortune. The couple earns around half of million dollars every year as a part of their pension schemes and plans. There are two books that Biden has written – Promises to Keep and Promise me, Dad, both of which earn him a grand royalty every year. While the former was released in 2008, the latter got released in 2017. The first book took up its sales when he was announced as the vice-presidential candidate for Obama, while the second book in itself became the best seller because it is centered on Beau Biden, who passed away due to cancer. Along with the royalty, the book promotion tours fetched him a handsome sum as well. Along with this, a detailed breakdown of the book tours showed that it had earned him more than a million dollars. The speaking engagements conducted both by Biden and his wife also fetch them quite a sum of money, which has contributed significantly to build their worth. It has been estimated that the couple has earned roughly around $15 million since 2017.
While his political career and net worth do make it seem that Biden's life is one of the comforts, but his personal losses have always begged the question. While he was serving his second term as the vice president of the USA, he lost his son, Beau, to brain cancer. This left Biden heartbroken, and he sat off the presidential campaign that year to grieve. Having been a family man throughout his life, his personal losses have always kept Biden grounded and true to family values, and it does help in making him a candidate who is worth the title that he is vying for. Having a deep connection with the masses, Biden's run for the presidency for 2020 holds a favorable chance!